What is BigCommerce?
BigCommerce is an e-commerce builder that provides scalability for selling online. It has a variety of built-in sales tools and combines these features with advanced SEO and multi-channel integration. BigCommerce is made for small businesses to grow and become larger.
There are the following points among the advantages of this platform :
No subscription is needed which means that you don't have to pay monthly.
Nice user-friendly features which stops the price quickly escalating.
If you are not a new internet seller, BigCommerce provides smooth multi-channel integration.
SEO support.
Despite the advantages, BigCommerce also possesses a few cons comparing to other e-commerce platforms.
This is not the easiest platform to set up. There are things hard to locate and understand. It's not a 'quick e-commerce fix'.
If your store has very tight margins, revenue-led billing may disadvantage your e-store.
Generally speaking, BigCommerce is a platform for:
new-born e-commerce stores which have ambitions to become a big fish on the market;
the merchants who already have experience of selling products on other platforms such as Instagram or eBay.
the stores which have already established themselves and want to grow.
Although BigCommerce is a popular choice, we would like to warn you that this platform isn't suitable for all sellers. If you provide a small-scale selling, or in other words, if you have a few products to sell there's no need for you to enter this platform since you will not need all the tools provided by BigCommerce. If you need some easy and quick set-up, you should better choose some other platform for your business.
The research that BigCommerce provided about how the users rate this platform showed the following results.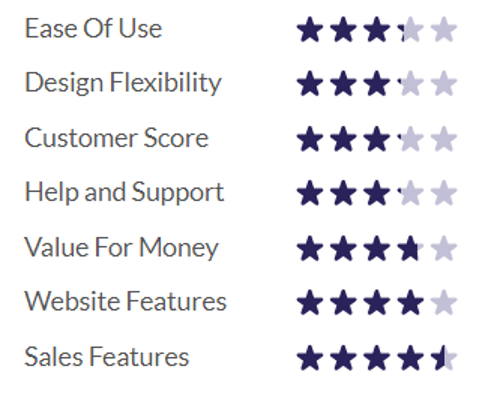 'After testing the platform for an hour, only 56% of our users would recommend it', – theBigCommerce claims.
Pricing, Fees and Payment Processing
You choose the plan to be on. BigCommerce has a bit unusual approach to plans as it is also connected with your income.
There are 4 plans: Standard, Plus, Pro and Enterprise. The price scales from 27$ monthly to 270$ annually.
Each plan offers its list of features.
Standard:
Unlimited number of products to sell;
Unlimited staff accounts;
Multiple sales channels, including eBay, Amazon, Facebook, and Google Shopping;
Coupons, discounts, and gift cards;
Real time shipping quotes;
Product ratings and reviews;
Plus:
Standard plan features;
Abandoned Cart Recovery;
Customer groups to reward frequent shoppers;
Store credit cards;
Pro:
Plus plan features;
Google customer reviews;
Product search filtering;
Custom SSL (Secure Sockets Layer);
Enterprise:
Pro plan features;
Priority support;
API support;
Custom facets (product filtering);
Price lists;
BigCommerce provides over 65 integrated payment gateways and doesn't charge any transaction fees, but you will incur the usual credit charges from your payment gateway.
Products and Inventory Management
With BigCommerce you can sell physical, digital, and service-based products without having to use an app, however subscriptions/recurring billing need to use an app.
BigCommerce is really comfortable for adding product variants. So this platform will suit the owners of multiple-choice products.
BigCommerce provides the integration if you already sell products on other marketplaces such as Instagram. It means that once some action is done on one platform, all the other connected platforms will also get the result of the action.
BigCommerce Sales Tools and Features
BigCommerce provides in-house features. It's quite effective as you have everything that you need under your fingerprint.
Abandoned Cart Recovery. When a customer abandons their cart after leaving their e-mail, you can send an automated e-mail to get them back o the cart. This option saves up to 15% of customers which proves to be an effective tool.
POS Integrations. This tool offers syncing online and offline payments. That means if you sell a lot in person, or have a physical store, BigCommerce will help keep your inventory synced and your finances centralized.
Extra Apps. There are over 600 apps to choose from in the BigCommerce app store. Nevertheless, it is still less number than its competitors offer.
Shipping Options. With BigCommerce you can use a wide range of shipping options: real-time shipping quotes, offer free shipping to your customers, print shipping labels, shipment tracking, in-store pickup, next day delivery and manage all your shipping from one central hub.
Themes and Design. The design of your website is the first thing that customers see. The design makes the first impression of your store, so it's crucial to pay much attention while choosing one. BigCommerce offers 12 free themes and over 100 paid ones which range from $145-235. All the themes are mobile responsive.
Design Customization. The Store Design Tool allows you to customize your website and see the result at that very moment.
Ease of Use. This is the biggest disadvantage of this problem. The users rate the ease of use 3,5/5. The problem is in its design interface. When you create a new store it's split into 2 areas. We have discussed the problem with the ease of BigCommerce above.
Help and Support. If you have some problems concerning your store, there's no need to panic. Support phone calls and emails are available for you. Depending on your plan, you will get different features of help such as Enterprise unlock the ability to make you prioritized to support.
So, data reports, extensive inventory and built-in features make BigCommerce a competitive e-commerce platform.
BigCommerce would be great for fast-growing businesses.
Reviewing BigCommerce you may ask yourself "so which e-commerce platform to pick?". Yes, there are plenty of good platforms but some of them are really outstanding. We are going to compare Magento 2 and BigCommerce and see which one would suit your fast-growing store best.
Popularity
Magento takes 8% of all e-commerce websites. Among the top million e-commerce sites 1.12% use Magento 2 and only 0.42%. Magento 2 beats BigCommerce in this section.
Hosting
A seller will need to pay a third-party company for hosting as Magento 2 is self-hosted. Unlike Magento 2, BigCommerce is already hosted which means you don't need to pay extra money for hosting, you won't be able to choose a relevant hosting though.
Although it's worth mentioning that hosting costs allow a seller to choose what features you want in a hosting plan and what you want to pay for hosting. So we consider this as the weakness of BigCommerce.
Pricing
We have discussed the BigCommerce plans above. What about Magento 2? It's free to use! Although you pay 4$-100$+ monthly for hosting.
Design
This is another very important aspect you need to consider if you want your store to be successful. The picture is quite obvious. BigCommerce allows you to choose only among 7 free and more than 100 paid templates. Magento 2 is open-source. It means there are tons of designs which were created by people. With Magento 2 you can customize any detail of your store just as you want!
Ease of use
BigCommerce is beginner-friendly is a lot more simpler in usage than Magento 2. Magento 2 is more for the developers than the beginners.
Features
Both platforms come with built-in usage for your convenience. BigCommerce has marketing tools, several payment gateways, social selling plus more built in. However, Magento is by far the most robust in terms of features. Built-in Magento features include catalog management, product browsing, and customer accounts.
With the new checkout upgrades in Magento 2, customers can quickly and conveniently check out in one-page.
SEO
SEO is an essential part of selling on the Internet as almost all purchases begin with the searching. Magento 2 is the best way to increase store traffic and visibility since it is number one in the ranking of the best e-commerce platforms for SEO while BigCommerce is only fourth.
Community Support
Good support from a community matters for the success of your shop.
BigCommerce is supported by BigCommerce university which helps to learn how to increase sales. Magento 2 has the largest community where the store owners can find help, even from professional developers.
Conclusion
Let's sum up all the pros and cons these platforms have.
BigCommerce Pros:
Stylish free and paid templates
Easy to use
BigCommerce Cons:
Lack of customization options
Can be expensive
Magento 2 Pros:
Free
Large developer community
Scalability
Great for SEO
Marketplace functionality
Advanced features through add-ons
Magento 2 Cons:
Can be difficult to use
Must find and pay for hosting
So choosing the right platform will benefit your business in the future.
As we see from the listed above, Magento 2 is a better choice for a greater and advanced e-store that will grow and develop under the good Magento 2 developers' supervision.