If you think about Starting Your eCommerce Business, you should consider the dropshipping model. Every entrepreneur worries about product inventory and storage, and dropshipping is a great solution to save money, time, and effort. It allows business owners to outsource goods storing and supplying to a third party.
Dropshipping is a widely popular fulfillment model that is expected to grow in recent years. It is worth your investment since the global drop shipping market size is forecast to reach $243.42 billion in 2023.
Do you want to see how it works in detail? So read the article to find out what dropshipping is, how to start it with a small capital, and analyze all pros and cons. This comprehensive guide will help you start your drop ship business easily and give you some alternatives to this model. So let's explore the complex and engaging world of drop shipping service for online store owners.
What Is Dropshipping?
The main thing to know is the concept of dropshipping itself. And here, we'll try to give you the dropship definition as clearly and simply as possible. So dropshipping is selling products online without keeping inventory in stock. A customer makes an order, and a third-party supplier fulfills it. A dropshipper acts as an intermediary between them and makes the deal possible without handling the product.
The dropshipping model is considered a low-cost and low-risk way of leading a business since you don't have to stock or own inventory. The third-party manufacturer or wholesaler does it on the merchant's behalf. You are not required to owe much operational capital, open a dropship online shop, pay overhead, hire employees, store and ship products. All you do is wisely outsource these responsibilities to the supplier.
Sounds interesting, but what to start from? Is everything so profitable and easy? In this article, we will answer all your questions about ecommerce dropshipping and help you make the right decision for running your online store.
Who Is a Dropshipper and What Do They Do?
A dropshipper is someone who takes advantage of the dropshipping model and brings it to action. It's a person or business that uses the model of buying inventory and fulfilling logistics. Dropshippers do not store or ship the products but mediate this process, relying on a third-party supplier.
As a dropshipper, you sell products, focusing on branding, marketing and customer management. You should drive traffic to the store and process orders. By paying the supplier's wholesale price, you set your retail price on your store and the difference is your profit.
Drop shipping service can be a jump-off point for anyone entering the world of eCommerce. This model is quite rewarding and easy to launch. There are a few barriers to starting: all you need is a laptop and a little budget. You can easily combine it with your full-time job due to a flexible structure, low initial investment and reduced ongoing expenses. Aspiring entrepreneurs should consider all drawbacks along with advantages to running their eCommerce dropshipping business effectively.
And here, we'll briefly look at who dropshipping is right for. There are many sellers who can benefit from this attractive option, including eCommerce beginners, entrepreneurs on a budget, part-time retailers, established retail stores, niche community members, and even content creators, if we speak of selling information-based products.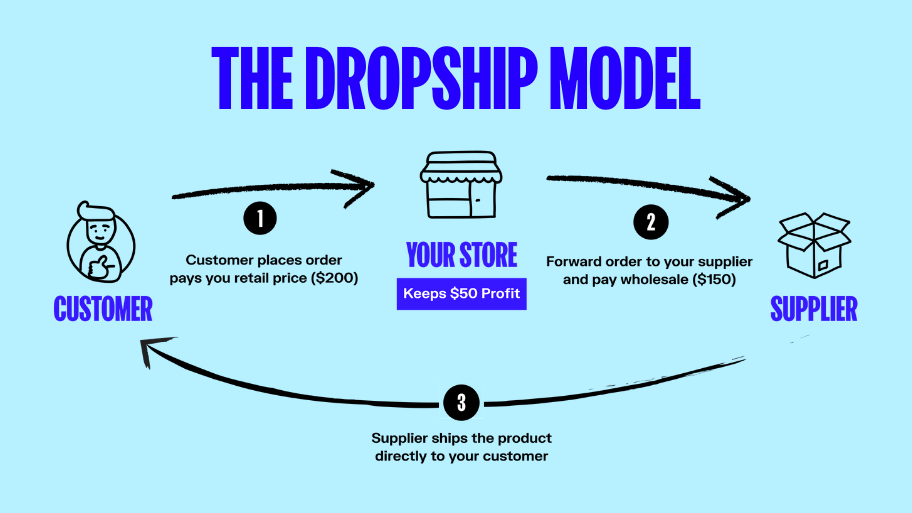 How Dropshipping Works
If you wonder "how does dropshipping work?", here's a detailed guide on this business model. A successful drop ship process is a collaboration of multiple parties. Firstly, the manufacturer creates the product and sells it in bulk to suppliers and wholesalers.
Then suppliers sell these items to retailers or dropshippers. You, as a drop shipper, search for specific products on online supplier databases like AliExpress, SaleHoo, Worldwide Brands, etc. Or use an app that connects your dropship online shop to thousands of suppliers. Once you find reliable suppliers, enter with them into an agreement. It's recommended to work with suppliers rather than manufacturers as they specialize in a specific niche, store, pack, and send products to customers.
The next stage of the drop ship process is creating your platform or using an existing one, listing items, attracting customers, and selling products. A retailer is a mediator between a supplier and a customer who makes the deal possible and receives a percentage of the sales. The dropship price results from marking up the product by a wholesaler and a retailer.
As you see, the entire drop shipping system is quite straightforward. But in order to make your startup successful, you should be a dedicated and trustworthy entrepreneur.
Benefits of Dropshipping
Dropshipping is a popular eCommerce business model for any business type and here we'll explore reasons why you should benefit from it.
No Large Initial Investments Needed
Entrepreneurs can start their dropshipping business without significant upfront inventory investments. They don't need to invest in facilities or resources to process orders. The overhead expenses are quite low as you don't have to invest thousands of dollars in inventory or manage fulfillment centers.
It's risk-free to launch your eCommerce store with a dropshipping model since you aren't committed to selling through any inventory purchased upfront. You purchase a product only when you've made the sale and get money from a customer. Compared to traditional brick-and-mortar businesses, dropshippers need a few recurring expenses to operate from starters. As your business grows, you will need more operating costs, but they are still insignificant.
Easy Set Up
A drop ship online shop is easy to set up, and you don't need extensive prior business experience. You will quickly learn the basics and master the rest in the process. Starting costs are quite low — dropshippers need neither a warehouse nor employees. You don't have to worry about packaging, shipment, tracking inventory, handling returns, and managing stock levels. It's easy to start your business with a laptop and minimal capital. You can launch your business even today with the appropriate tools and resources. Once you read this guide, you will have enough knowledge to start a drop ship career.
Ability to Operate the Business from Anywhere
You can run the dropshipping business and fulfill orders regardless of your operating location. Any office is needed that opens up the possibility to work from anywhere. As you know, dropshipping doesn't require making any high-level investments, so you can work right from your laptop. You should pay for advertising to attract more clients to your store. But your expenses will never exceed the traditional business ones, even when your dropship online shop grows. So sit in your comfortable house with a stable internet connection and communicate with clients and suppliers.
Multi-Channel Selling
You are free to use the drop shipping system for your business for selling on any platform. It's possible to use your domain through a particular store like Amazon or a social media platform like Instagram or Facebook. You have a wide selection of Trending Products to Sell Online, as there's no need to pre-purchase the drop ship items you sell. So you can expand your assortment of goods regularly, tracking the needs and preferences of your potential customers. Have any unsold inventory? No worries! It's easy to change your products list without investment loss. You don't stock items, and you can sell whatever you like on your online store at no additional cost.
Unlimited Scalability Potential
Dropshipping businesses scale quite well compared to traditional eCommerce businesses. As your eCommerce store grows, you leverage suppliers and accept more orders. Your business model doesn't change as you do not increase the inventory you store and ship. When you scale, you don't have to spend money on the infrastructure. Simply increase your marketing and sales effort, process a drop shipping order and support customers. The more you invest in marketing, the higher profit you will get.
Flexibility
And now we turn to the last but one of the biggest dropshipping benefits — flexibility. You can be your own boss, set your rules, and work from any place and at the times that are most convenient for you. A dropshipping career is a perfect option for entrepreneurs who want their businesses to work for them. If you want, you are free to rearrange products, apply new strategies, and even automate the process when going on vacation. You are responsible for setting your own pace and making decisions that work for you, and your possibilities are limitless.
Do you consider starting a dropshipping business?
Drawbacks of Dropshipping
As you see, the dropshipping model has many advantages, but there are still some things to be aware of before you put all your effort, time, and savings into this order fulfillment method.
Reduced Margins
Because setting up a dropshipping store is so fast and easy, and the overhead costs are minimal, the product margins are low. Besides, dropshippers pay the supplier for the wholesale product price and order fulfillment. Attempting to increase the customer base, they set low prices that result in initial low margins. But there's a solution, and you can mitigate the problem by choosing the right niche with low competition. Optimize advertisements so that people visit your high-quality website with excellent customer service.
Inventory Issues
A novice dropshipper may come across the problem of inventory management. Since you don't stock products, it's quite difficult to track what items are available. You cannot get up-to-the-minute updates on the variety of products in stock. And order fulfillment is even more challenging if you source from different warehouses. It may result in a poor customer experience and discourage them from ordering on your site if they order the product and find it's not available. Thanks to widespread digitalization merchants can automate inventory publishing in their stores with the help of special apps.
Shipping Challenges
Another stumbling block on your way is a costly and long delivery. Inventory suppliers are often located in Asia, which causes many shipping challenges. Working with multiple suppliers even further worsens the situation. You will have to manage a lot of shipments and have limited control over the supply chain. Paying for each item from separate suppliers is not the biggest problem. Suppliers can make mistakes sometimes and damage your reputation. There may be cases when they pack items inappropriately, damage the product, or even miss the order. So try to find a reliable supplier to ensure a good customer experience.
Lack of Control
Merchants sell products they don't see as they are stored somewhere in suppliers' warehouses. You can order a product sample to inspect what your customers purchase, but it's quite challenging to examine everything if you offer a wide range of products in your drop ship store. In some cases, retailers rely on reviews and sales history. If something goes wrong, it may be tricky to meet the client's needs. But anyway, dropshippers rely on suppliers, and customers rely on retailers, so this model works seamlessly if you learn and try a lot.
Complicated Customer Service
Limited control leads to difficulty in handling customer support. When suppliers fail or something is wrong with the shipment, you should tackle the problem. You are the one to be blamed when the customer isn't satisfied. Unfortunately, this business model requires taking responsibility for all mistakes, even made by suppliers. If you do everything right, it doesn't mean you will not have to solve different problems with clients and assist them with any questions.
Limited Customization
And the final disadvantage of dropshipping we will cover is limited branding and customization. The items you sell on your online store come directly to the customer, and you cannot design the package or customize the label in any way. These are not custom-made products, and you cannot control whatever you want. The supplier is responsible for branding and design, so select a trustworthy third party that aligns with your preferences. You can ask for some changes or additions, but a minimum order quantity is required so that it's affordable for manufacturers.
How to Start Dropshipping
Does it sound like a complicated puzzle? Do not worry, these simple tips will help you launch and run your dropship online shop effectively.
#1 Choose the Business Concept
The business concept you select will lay the foundation for the products, suppliers, and website design you choose. Try to implement your dropshipping product line to be recognizable and attract clients. So you can start with a limited range of products, but they should meet the needs of the targeted audience.
#2 Select Products
When it comes to sourcing products, you should develop a website in advance. Then you can turn to choose suppliers offering the best prices for the drop ship items you need. So check multiple distributors like AliExpress, SaleHoo, Wholesale Central, Worldwide Brands, Doba, and Megagoods and take a look at product statistics and reviews.
#3 Create the Store
Now build an ecommerce dropshipping store to display your products the best way and sell them to your clients. It may be challenging to build a website so you can sell products through other platforms like Etsy and Amazon or social media.
#4 Market Your Business
More people will know about your store if you market it properly, collaborating with other businesses or promoting your dropshipping shop via social media. There are many strategies to benefit from, so consider your budget and find the best solution to convert customers.
Here are some drop ship basics for you to know before setting up your store.
An online storefront is the website of the store hosted by an eCommerce dropshipping platform or a seller account on marketplaces.
Order shipping is effectuated by a supplier who packages and sends it to the customer. Order delivery may be paid or free if the supplier offers this method.
The business structure depends on whether you decide to run it on your own and don't register or get a license and pay taxes, depending on your location.
Marketing your store is vital for attracting customers and generating profit. You can resort to SEO, email marketing, social media promotion, affiliate sponsorship, and more.
Products in your shop are stored in suppliers' warehouses, and you just display them on your platform. You select the best items you like to be sold in your store and collaborate with different suppliers.
You, as a dropship online shop owner, are the one to provide customer support and handle returns.
Choosing the Best Dropshipping Suppliers
Now let's consider how to select the best supplier for your dropshipping shop. It's a crucial decision to make since you seek a trustworthy partner who's in charge of your store's reputation. You should make sure that the drop ship items advertised are the same in real life and meet your expectations.
The state of the products is important, but the supplier you will collaborate with should also meet certain criteria. If you are going to do business with a third-party manufacturer, request for drop shipping access and find out the answers to a list of key questions. How much time do they need to handle an order? How do they handle returns or damaged goods? Do they have customer support? Are there reviews on their products and services online? Can they insure orders and protect you and your clients from fraud? It's not a comprehensive set of questions, and you are free to specify whatever you consider crucial for fulfilling your every drop shipping order safely, fast, and effectively.
Alternatives to Dropshipping
It may happen that a drop ship method doesn't meet your needs, so here are a few alternative options.
You can buy and sell inventory on your own, which is a standard way of leading the eCommerce business. You will benefit from higher profit margins and collaborate with a wider range of suppliers. Starting your dropship online shop may be quite expensive and risky, so give up this idea if you aren't sure of the profitability of your offering.
Another great idea is to buy products from manufacturers but label them under your brand name. It's quite a profitable option. You can customize drop ship items on your own or hire a company for that.
And finally, you can outsource drop shipping order fulfillment to a third-party provider. They will receive orders from suppliers, pack them, and send them to your customers. It's not cheap but time-effective.
Final Thoughts
Dropshipping is an effective business model that can bring you a considerable profit if applied appropriately. This order fulfillment system has both pros and cons, but only by knowing all the truth, you can set it up successfully. Our team can help you develop and design your eCommerce store for a dropshipping service. Do not wait to contact us and start your drop ship career without any risks and minimal investments.
Do you need assistance starting your dropshipping journey?