Getting started with an eCommerce business is as fascinating as challenging. Despite the low entry threshold and well-developed eCommerce technologies, this industry also promises fierce competition and the necessity to meet the customers' expectations at each of the sales funnel stages.
What tech set should you use to successfully launch and grow your eCommerce business? Should you develop your own website or consider joining popular marketplaces? Let's compare the options to find the most winning one.
The Pros and Cons of Selling on Amazon

Being the most popular retail marketplace ever, Amazon hardly needs an introduction. This is one of the top places modern users choose to access the widest choice range, shop at the best price, and take advantage of quick shipping. Let's take a deeper look at the pros and cons of running an eCommerce business on Amazon.
Amazon Business Advantages
Global reach. There are nearly 200 million Amazon users worldwide. Every day, the marketplace ships 1,6 million packages per day, while 18 orders are placed on Amazon per second. Joining such a popular and dynamic marketplace can be a good idea in terms of customers' reach and growing your store day after day.
Low getting started costs. The cost to get started with an eCommerce Amazon store is pretty low. For example, you can create an individual seller account for just $40 per month, plus pay a symbolic fee for each transaction on the marketplace. Mature businesses are welcome to choose more advanced subscriptions, unlocking more promotional opportunities but paying higher fees in exchange.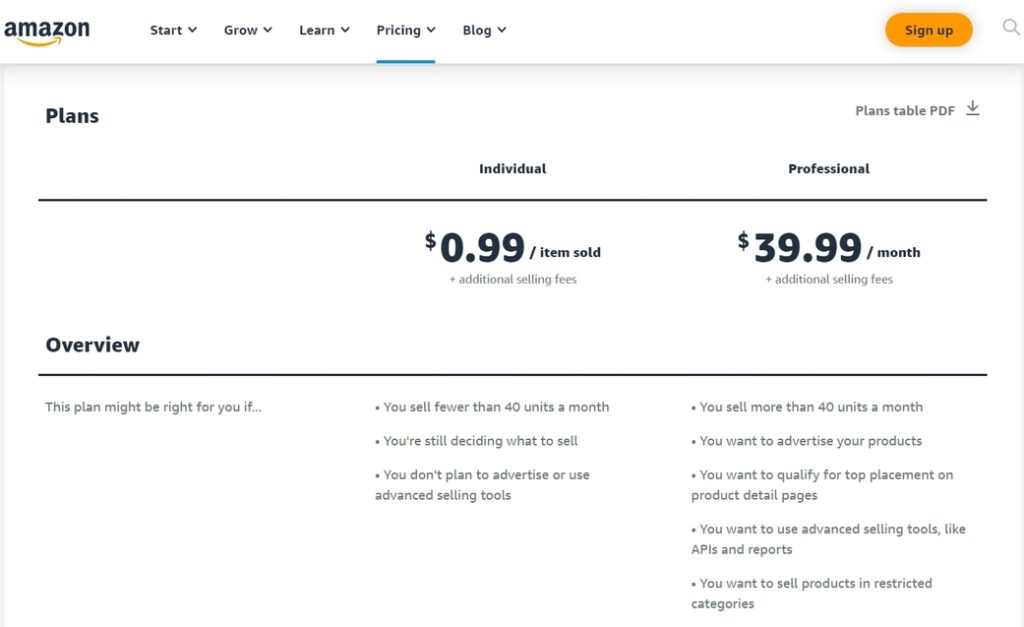 Quick launch. Setting up an eCommerce Amazon store is a process that will take up to several hours. The most important condition to get it done is to provide Amazon with authentic information about your business, and bank credentials.
Leveraging social proof. The opportunity to gather real customer feedback is another one the sellers appreciate. What's more, the seller's rating directly affects the search discoverability of a store, improving your chances of capturing prospective leads.
Amazon Store Drawbacks
No branding opportunities. In contrast to all the benefits above, Amazon comes with no branding opportunities so standing out of the crowd is pretty difficult in the marketplace. The only way to compete is to sell the products of great quality, gather user feedback, and pay the greatest attention to the Amazon SEO optimization of your product descriptions. An opportunity to build a branded website within the platform is available only for those sellers who are registered in an Amazon brand registry and meet eligibility criteria.
A lot of tech and marketing specifics. Also, running an Amazon e-commerce business requires you to be well-versed in platform-specific tech and marketing specifics. For example, you will have to deal with Amazon analytics dashboards that aren't as intuitive and complete as you would like them to be. As for Amazon marketing, the marketplace allows you to set up Sponsored Ads campaigns but the highest bets are still placed on Amazon organic search.
Amazon Sponsored Ads Example
Fierce competition. There are 10 million sellers on Amazon, and most of them offer a lot of similar items. That's why competing on Amazon is a challenge, especially for novice sellers – you either have to sell something truly trendy and standing out, or get ready to pay a lot for Amazon promotion.
Higher costs for the long run. As a rule, the eCommerce Amazon costs are running in response to your business growth. To put it simply, the more you sell – the more you pay for it, plus you have to keep investing in Amazon promotions to hold your winning positions.
The Pros and Cons of Creating Your Own eCommerce Website
Creating your own website is a tactic that can be a decent alternative to joining Amazon. Let's review its pros and cons in more detail to find out which of the options will be the most value-adding for your business.
The Pros of Having Your eCommerce Website
Ultimate customizability and branding. One of the main benefits of creating a custom eCommerce website is the opportunity to embed any design and branding solution that will help you stand out in the eCommerce market. What's more, you are welcome to choose the most suitable content management system (CMS) with a feature set that will perfectly correspond to your business goals. Magento, for instance, is one of them. It allows for creating technically powerful and perfectly customizable eCommerce solutions with great scalability potential.
Feel like building a Magento website is a great option for your eCommerce business?
Feel like building a Magento website is a great option for your eCommerce business? Get in touch with us now for premium tech support!
Total control of your website. Unlike your own website, the Amazon store is almost impossible to control. The business process in this marketplace directly depends on the Amazon policies which are changing frequently. Your own website, in turn, promises an opportunity to play the eCommerce game on your terms.
More data-driven insights. What's more, an Amazon store comes with limited opportunities for data gathering and analysis. Your website, in turn, can become a great pool for gathering customer insights, tracking their behavior patterns, testing different design solutions and marketing strategies, and finally finding the approach that works wonders for your business and customers.
The Cons Your Website May Come With
Higher costs compared to Amazon's store. Creating a custom eCommerce website is more costly compared to setting up an Amazon store. The price to develop a full-fledged eCommerce solution may reach $50,000 and more, depending on the complexity of the app. However, it still comes with better ROI projections compared to running your store on Amazon.
Marketing and promotion challenges. On Amazon, you are limited by in-built marketing opportunities. You can use only those tools and features Amazon allows you to use but when it comes to promoting your website, the list of marketing ideas is almost unlimited. Surely, you should be well-versed in eCommerce marketing specifics to promote your store successfully or hire a tech-savvy marketer at least. However, these aren't all the challenges you are about to face.
A lot of eCommerce development specifics. The process of eCommerce development is also specific, and there are a lot of questions you have to find the answers to. Creating an intuitive UI, powering your site with necessary features only, ensuring seamless user experience, and writing an SEO-friendly code while staying lean and agile are just some of the issues to solve.
Right now, you are at the right place to create an eCommerce website in a pitfall-free way.
Right now, you are at the right place to create an eCommerce website in a pitfall-free way. Meet our developers now to unlock the best eCommerce development practices, tips and insights they can use for your project growth!
Conclusion – the Smartest Strategy for Your eCommerce Business
So, when it comes to Amazon vs own website choice, which tactic would be the winning one for your business? At this point, let's remember the pillars of LEAN development methodology; namely, the suggestion to test before invest.
According to this logic, validating your product idea and discovering its market demand is the step you should make before custom website development. Amazon can be a good place for idea validation at a low cost, and then, you will be able to calmly invest in developing your online presence.
We, at Idea in You, are here to help you with the second task
Reach out to us now to create a powerful and awesome eCommerce website!