Do you consider launching your first online beauty supply store? Then, you've landed on the right page! Starting a beauty supply store today can be a great chance to develop a successful company with high revenues, especially when taking into account its market share: as of 2022, the 2021's revenue of the cosmetics market worldwide has reached $80.73 billion.
What is more, the demand for shopping beauty supplies online has significantly increased with the COVID pandemic, and this trend is believed to continue growing in the future decades. According to the forecasts by Grand View Research, the global market value of beauty and personal care products can reach $716.6 billion. So, there's never been a better time to launch your business within this industry.
However, launching a profitable online beauty product store requires lots of time and effort, from the idea development to its direct transformation into a profitable business that works correctly. So, in this article, we'll uncover the basics of starting an online beauty supply store, guiding you through the essential steps and specifics of entering this lucrative yet exciting field.
Step #1 Decide on the Target Niche
Regardless of the selected industry, considering the product focus and target audience is essential before you launch any online or offline business. Without any doubt, selecting the right eCommerce niche can really result in extremely high revenues.
Take Amazon.com as an example: the company was started as an offline bookstore, which transformed into an online marketplace that gradually increased its range of product offerings. In 2021, the website generated $469.8 billion in annual revenue, leaving far behind the world's largest enterprises like Alibaba, JD.com, Rakuten, and others.
So, to start online beauty supply store successfully, it's recommended to focus on a narrow niche of products, such as hair products, skincare, or cosmetics. This benefits better audience targeting and is wiser in terms of financial investment – the last one will surely be one of the key focuses that can either make or break your project.
For this purpose, research the products people are currently looking for and consider which ones will remain relevant during the upcoming years. As an example, you can start learning the search trends within the specific locations (using Google Trends, for instance) or make keyword research on Ahrefs to learn the competition and estimated traffic you'll get while focusing on these terms.
Boom by Cindy Joseph is a great example of a beauty supply store with a precise target niche. The brand sells pro-age cosmetics and skincare for mature women. By being highly consistent with who they target, they've managed to build a strong presence on social media and become a popular beauty supply store for women of age who want to enhance their natural beauty.
Taken from: Boombycindyjoseph
Step #2 Set Up Your Budget and Business Model
Before you launch a website, consider the overall cost you're ready to invest in your online beauty supply store. That's an essential part that has a huge impact on the entire business development, as you can now make more accurate decisions concerning marketing, development, and product filing separately.
Additionally, this will help you to ensure that none of the key business aspects is missed, so you won't search for the add-on investment sources in a rush. Typically, this stage implies a variety of different considerations, such as:
Products: which supplies should you start with, their pricing, and their perspectives
Branding: under what label will you sell the supplies, their design, etc
Marketing: how to promote your beauty products effectively and at the most reasonable cost
Shipping: should you buy the products in bulk or try with several ones instead, where to store the goods and how to ship the orders
Website: what platform to choose for eCommerce, how to maintain and promote it effectively
All these aspects are simply a must once you start planning how to open up a beauty supply store on the Internet. Naturally, they have to be taken into account when planning the budget for your eCommerce project.
Step #3 Find a Trustworthy Supplier
Depending on the business budget, there are two options online beauty supply store business can choose from:
Private label: the products are manufactured and distributed by the brand itself
Dropshipping: the products are purchased from suppliers and dropshipped to the shoppers directly
In most cases, it's easier and more effective to start with a dropshipping model (unless you have unlimited or considerable investments). Getting products from several suppliers allows accessing thousands of products while saving resources on their purchasing and inventory.
However, when considering how to start a beauty supply store business, owners can also consider in-house manufacturing or bulk buying, which is then distributed under the brand – this mainly depends on the business focus and objectives. In any of these cases, you should make decisions really carefully, as it can directly impact the outcomes of your project.
Taken from: Ippei
Step #4 Select the Right Domain for the Platform
While searching for any information on how to open a beauty supply store on the Internet, you've probably come across the advice of choosing the domain name. But is it really critical, and what role does it actually play for the eCommerce business?
Getting the right domain plays an essential role in the website development, as it helps to:
Drive more traffic to your website
Increase the website's credibility
Represent the brand and the products it offers
What is more, changing the domain name in most cases hits the website's performance and traffic flow. That is why investing in the domain name that can represent your eCommerce business is quite pricey. However, once you've found the desired match, get it locked for your platform and start a beauty supply store site launch.
Do you want to learn more about the development of an online beauty supply store?

Step #5 Launch Your eCommerce Website
Once you have the products to sell, it's time to build the platform they'll be distributed on. Luckily, there are many options on how this can be done depending on the estimated budget and preferences:
Building Your Own Beauty Supplies Website From Scratch
Pros: Better speed, performance, and maintenance
Cons: Comparatively expensive and time-consuming, requires developer outsourcing
Here are the approximate costs of developing a beauty supply store from the scratch considering that the average cost of 1 hour of development services is $50: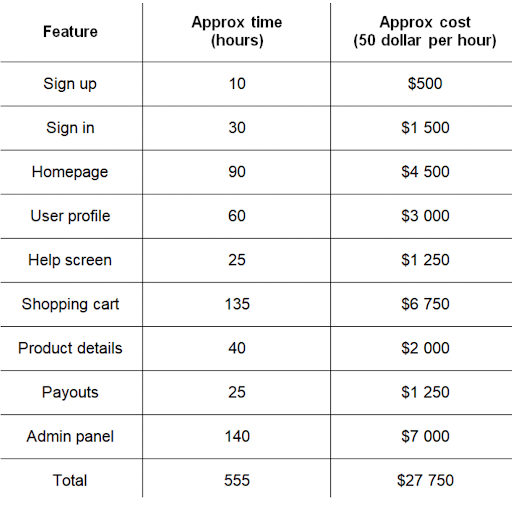 Taken from: Merehead
Using a Ready-Made Website Builder With Plugin Support (i.e. WordPress)
Pros: Easy and straightforward, affordable solution that fits any budget
Cons: Doesn't specifically cover the retail features (inventory management, sales performance, and more)
WordPress offers numerous free and paid themes that would be suitable for online beauty supply stores. All you need to do is to choose the template and customize it according to your needs.
Taken from: WordPress
Implementing the SAAS Solutions for Ecommerce (i.e. Shopify or Magento)
Pros: Designed for easy launching and maintenance of the eCommerce websites, cross-industry solution for businesses of any size
Cons: Feature a steep learning curve and might become expensive as the business scales
Magento 2, Shopify, Woocommerce, and BigCommerce are some of the most popular SAAS solutions for eCommerce. Make sure to review our comparisons of Woocommerce vs Magento 2, Shopify vs Magento 2, and BigCommerce vs Magento 2 in order to understand which platform would be best-fitting for your unique business needs.
Taken from: Makeanapplike
Starting Your Business on a Social Media Network (i.e. Instagram)
Pros: Enables accessing a wide range of audiences, can quickly increase engagement, and enter the international marketplace
Cons: Has tricky algorithms and requires continually interacting with the audience to retain and increase the revenues
While starting your online beauty supply store on Instagram, make sure to set up the shop and consistently publish content that brings value to your subscribers and thus helps to build loyal relationships.
Taken from: Instagram
Whatever option you'll choose, make sure it's convenient, features all the basic tools, and fits your budget, so you can easily get the platform launched and start driving traffic. Of course, that's not the permanent matter of choice, and you can switch to a more suitable one once it's needed – but get ready to invest the add-on your time, effort, and resources.
Step #6 Create an Efficient Interface & Improve It
Regardless of the industry, every eCommerce website features similar opportunities to showcase the products or services while generating completely different revenues. Why? The answer will surprise you: it's all about the proper interface design!
Those that have little or no expertise in how to start a beauty supply store usually don't prioritize the website's design too highly, considering it a mostly useless expense that doesn't matter at all. However, a properly planned website design can result in higher average cart value, decrease cart abandonment rates and even improve client loyalty.
To ensure you're getting the most out of your website design while opening a beauty supply store on the Internet, here are some key points to focus on:
Simplistic & intuitive website design
Clear, memorable, and appealing branding
High-quality & detailed product pages
Seamless checkout process
User-friendly & accessible customer service
All these aspects can greatly help you to create a customer-focused, effective website design so you could successfully start a beauty supply store online.
Step #7 Consider an Effective Marketing Strategy
When developing any sort of business online, digital marketing is one of the key aspects to mind right from the start. Even if you're going to start a beauty supply store that is small and is tight in budgeting, marketing is the exact thing that makes people aware of your business.
To set up efficient marketing for your beauty supply website, make sure it's always planned in advance and covers different approaches and various audience segments. Luckily, there are plenty of options for different tastes and wallets, which can definitely fit your idea of opening beauty supply store.Therefore, no matter if you're considering how to start a hair store or how to start an online beauty supply store, planning the core marketing channels is the exact tool that will help your business to stand out from competitors.
Social Media Marketing (SMM)
It's one of the most commonly used approaches that enable easily reaching out to people across the globe, presenting the brand identity, and promoting the target products.
Sephora does a great job on social media marketing as they constantly publish useful content with tips on how to use their products, select the right items or improve the makeup routine overall.
Taken from: Instagram
| | |
| --- | --- |
| Pros | Cons |
| Enables targeting different audiencesCovers a wide range of social media networksGreat for the rapid online presence development | Requires continual presence and high activity to maintain the audience's interest and engagementIt takes some time to gain credibility and people's trustIs rather an add-on solution than the main source for platform development (should be used with content marketing or SEO) |
Search Engine Optimization (SEO)
SEO is directly focused on website development and can greatly increase brand visibility online. Usually, it is one of the main tools for eCommerce business development.
While working on your SEO strategy, make sure to conduct keyword research, select the purchase-intent keywords that you want to rank for and optimize your product pages accordingly.
| | |
| --- | --- |
| Pros | Cons |
| Is the cheapest source of organic trafficOnce the website is optimized, its efficiency can last for yearsHelps to increase the online visibility | It takes at least 6 months to see the resultsIs comparatively expensiveFits for the websites solely |
Content Marketing
Content marketing is one of the key tools for attracting visitors on search engines, which can greatly increase the brand's credibility and authority.
While working on your content marketing, you need to not only curate valuable content for your audience but also work on distributing it across all communication channels.
Taken from: Clorebeauty
| | |
| --- | --- |
| Pros | Cons |
| Can be applied across different platforms (social networks, websites, blogging, etc)Helps to attract visitors to your website by directly targeting their pains and interests | Requires extreme consistencyThe knowledge of SEO and marketing basics is a mustIs more efficient while implemented as one of the SEO aspectsIs time and resource-consuming |
Beauty Influencer Marketing
Influencer marketing is an excellent tool for the beauty niche that allows you to gain high-quality leads and attract relevant audiences to your business. The most important thing here is to collaborate with influencers who can reach your target audience and who have a solid connection with their followers.
Lush does a great job with influencer marketing having hundreds of influencers mentioning the brand on Instagram, YouTube, and other platforms.
Taken from: Firebellymarketing
| | |
| --- | --- |
| Pros | Cons |
| Is the best source for gaining high-quality leadsAdds more to the brand visibility on social mediaCan help to turn out the one-time buyers into the loyal customers | Is not predictable in most casesRequires extreme supervision and defined requirementsDepending on the influencer's popularity and region, can turn out quite expensiveRequires highly developed social media channels and powerful marketing to retain the audiences |
Step #8 Register Your Business
Finally, when starting any business across any industry, you'll need to register your activity with the government. Depending on the country and area of operation, you'll need specific permits, licenses, and supporting documentation that certifies your ability to sell the beauty products to your customers.
Once you've discovered how to open a beauty supply store online and got everything set, feel free to add the required documentation to the Privacy Policy and Terms & Conditions sections. That not only will secure your business in the legal field but also work great for the credibility and authority of your eCommerce platform, which is highly important for both search engine algorithms and your potential consumers as well.
Step #9 Actively Interact With Your Customers
Having discovered how to start a hair supply store or beauty product retail platform, the final but not least important aspect to analyze is the audience interaction.
As a small business, you need ways to keep your customers updated about the appealing promotions, new product incomings, and other changes in your business. As a beauty brand, you will want to improve the online presence, increase competitiveness and make people choose you among the others.
The easiest and probably most effective way to succeed in both aspects is to continually reach out to your clients in different ways. There are many options to consider, each of which can help your business always stay connected with your audience: from newsletters and special offers to personalized suggestions and seasonal sales. Whatever option you'll decide to implement – it will surely have a return!
Emailing your newsletter subscribers about upcoming promotions and top-selling products is one of the effective ways to build a connection with your audience and encourage recurring sales.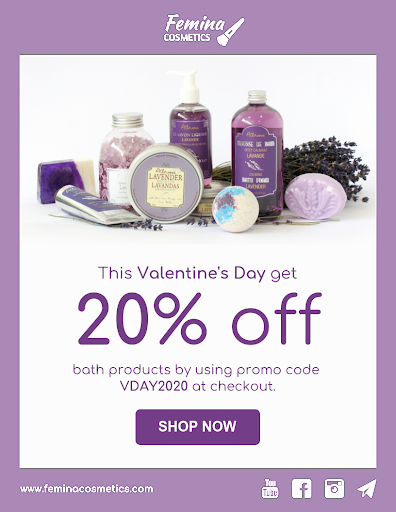 Taken from: Venngage
Wrapping Up
As you can see, launching a successful beauty supply store is challenging, but still possible even while having little or no expertise within the target industry. If planned properly, an online store in the beauty supply niche features comparatively high ROI and can scale up to a large, profitable, and competitive enterprise.
Now that you know the basics of how to open a beauty supply store and successfully develop your business within the target industry. We do hope that this article has shed some light on what to start when considering your beauty supply business project, as well as the critical aspects you shouldn't miss in the process. Good luck!
Need help setting up your online beauty supply store?